Here's a video platform for science/technology/activism videos, where there are no ads. No data collection. No view counts. No dislikes. No limits, no censorship, and one that even lets you download any video. Too good?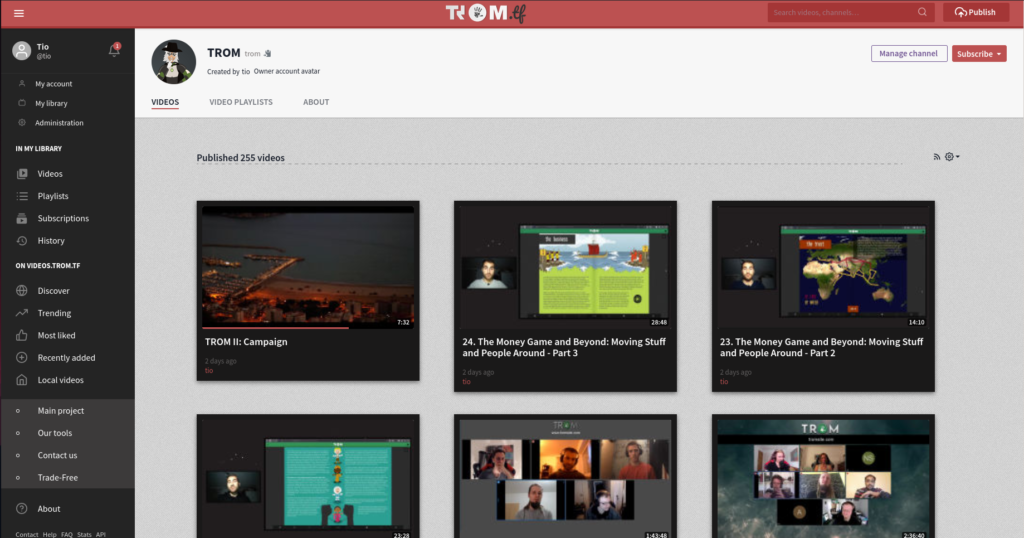 hundreds of thousands of videos
Multiple islands, a lot of users, many videos
because our island has many bridges

To host and deliver millions or billions of videos requires a lot of hardware power and storage. Immense amounts. Big companies can afford this, but in return they charge people with their data, attention, or currency. If we are to provide a trade-free video platform that can scale up, we need to think differently. Welcome to PeerTube, the software behind videos.trom.tf.
Peertube creates islands, and each island can sustain thousands of users or more, and due to the bridges between them, any island is as big as the rest combined. Searching on videos.trom.tf, means searching videos from any other island in a native way.
That's the plan, to not restrict you:
upload, make multiple channels, multiple playlists

It is so easy to upload! And if your videos are on Youtube, Dailymotion, Vimeo, Facebook, or the hundreds of websites on this list, then you can copy-paste the video URL in the Import tab. The title, description, and even hashtags will be imported with your video automatically. And yes, you can even import from torrents or create a Live!
You can have great control over your videos: make them public, private, unlisted, or only displayed locally (on our island).
And embedding and sharing is fun!
embed only a part of the same video
Because this is more than a simple video platform